Healing From Infidelity
On-Demand Video Course - Everything You Need To Heal From An Affair & Get A Happy, Healthy Relationship
You Absolutely Can Get Over An Affair.
It's so hard to believe that, right?
Because right now, you're devastated and overwhelmed. You might even be wondering if you're losing your mind.
Maybe you're feeling insecure and suspicious... Does he really love me? Is she where she says she is?
You're hurt and angry... How could he do this to us and our family?
Or maybe you're even wondering.... How could I have done this to the people I love?
Of course you feel this way... your feelings are perfectly normal and so easy to understand.
An Affair Doesn't Mean That Your Relationship Is Over.

Or That Your Partner Doesn't Love You.
Most people DO recover from an affair and you can too!
Imagine yourself on the other side of this situation...
You've talked about the affair, you understand why it happened, you believe your partner when they tell you they love you, you trust them....
You can relax in their arms as you fall asleep at night because you know you're safe and that everything is ok...
How wonderful would that feel?
It can happen for you....
How can I be so sure?
Because I have helped thousands of couples, just like you, get over an affair and go on to have happy, healthy relationships again.
If they can do it, you can too. And I am here to help you every step of the way.

Healing From Infidelity is a proven, step-by-step program, where you'll learn everything you need to know to truly heal from an affair....

If you have been looking for practical, insightful, easy-to-follow advice from a relationship expert who really knows what works....then this video course is for you.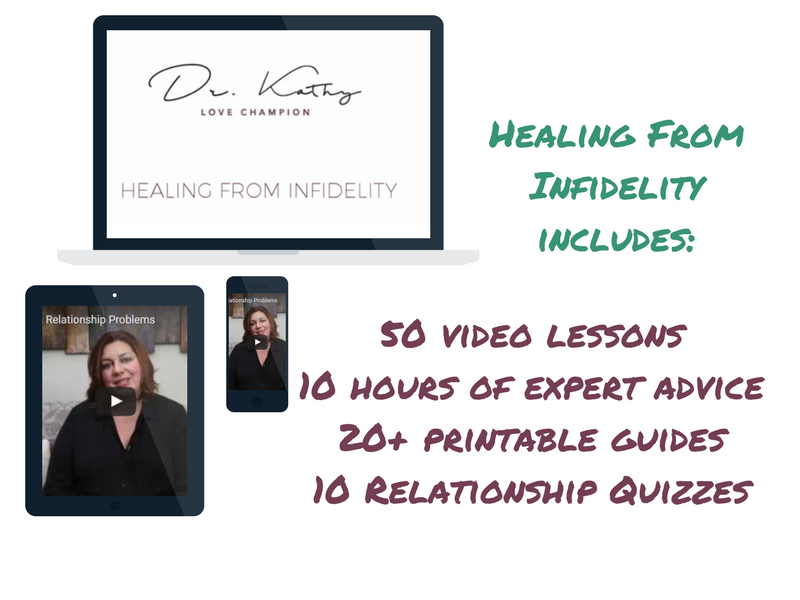 Through a series of 8 modules, featuring 50 video lessons, 20 handouts, and 10 relationship quizzes, Dr. Kathy will walk you through every step of the healing process.
You'll learn:
How to tell your partner you know about the affair
How to end the affair
Exactly what to say to the affair partner to stop all contact
What to do if the affair partner is a co-worker or employee
The rules for talking to each other about the affair
How to increase transparency
How to start building trust
What to do if the affair partner keeps reaching out
What you should tell other people about the affair
How to cope with painful feelings
How to start forgiving your partner and yourself
How to discover why the affair happened
How to figure out why you want back in to the relationship
How to rebuild your connection after the affair
How to start getting closer again
How to bring intimacy back into your relationship
How to use Dr. K's Relationship Check Up Quiz to make a custom healing plan
How to affair-proof your relationship in the future
and much, much more....
You really can go from suffering, to recovering, to happier than you've been in a long time.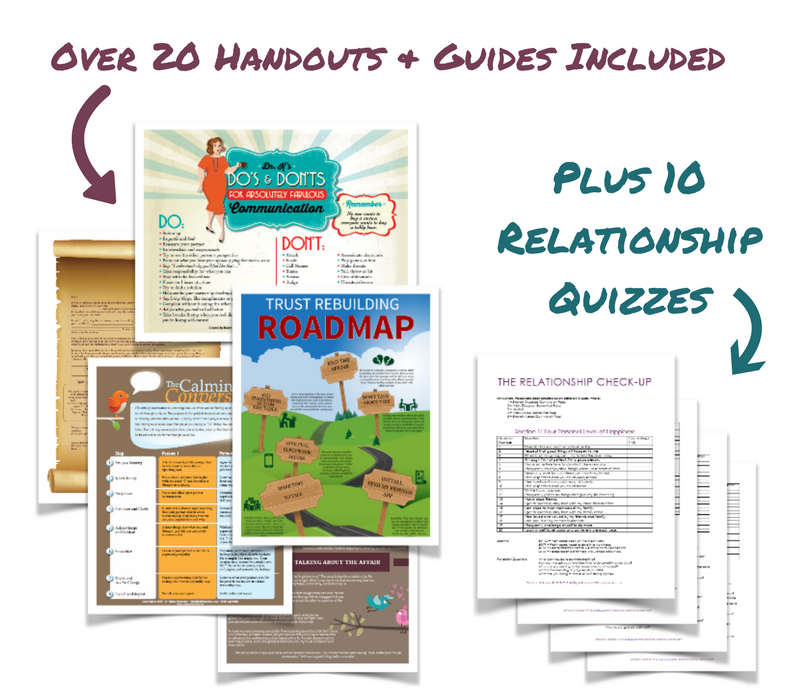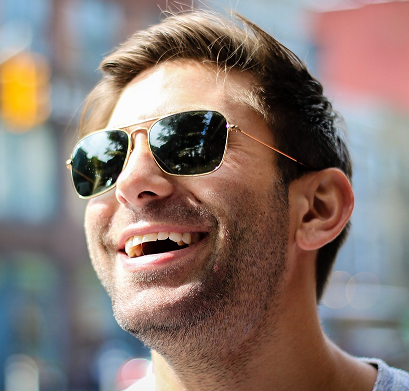 "Dr Kathy is a psychologist with the head of a scientist and the heart of a friend. You won't find a better, more compassionate guide to help you save your marriage."
- Tom P., California
How Does The Healing From Infidelity Course Work?

This program is 100% online and it consists of video lessons, printable guides, handouts, quizzes and articles.
The program is available online 24/7, so you can access the videos and material anytime you want, whenever and wherever you are. It works on all laptops, smart phones, and tablets. All you need is an internet connection.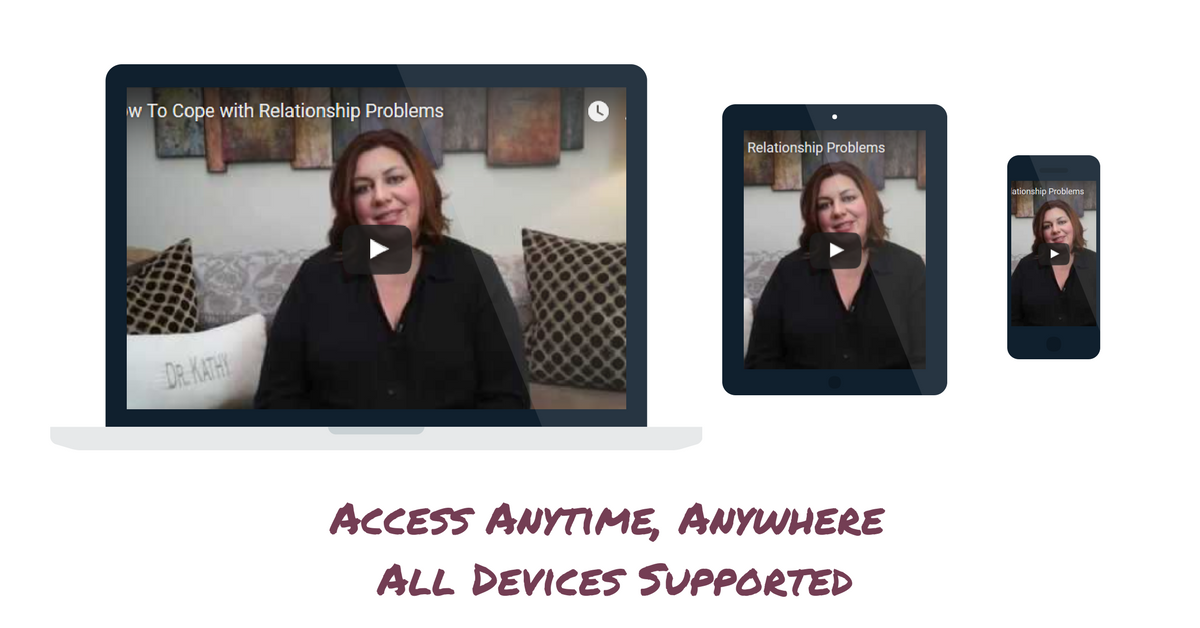 Once you buy the course, you'll have immediate and lifetime access, so you can get the help you need anytime you want it.

The course is easy to follow, self-paced and truly step-by-step, so you can heal at your own pace and take the time you need to recover.

And unlike traditional therapy, with on demand courses like this, you'll never need to schedule an appointment, take time off from work, drive to the office or hire a babysitter.

Best of all, this Healing From Infidelity course is completely private and absolutely confidential. No one will ever know you've taken this course unless you decide to tell them. We will never share your contact information, ever.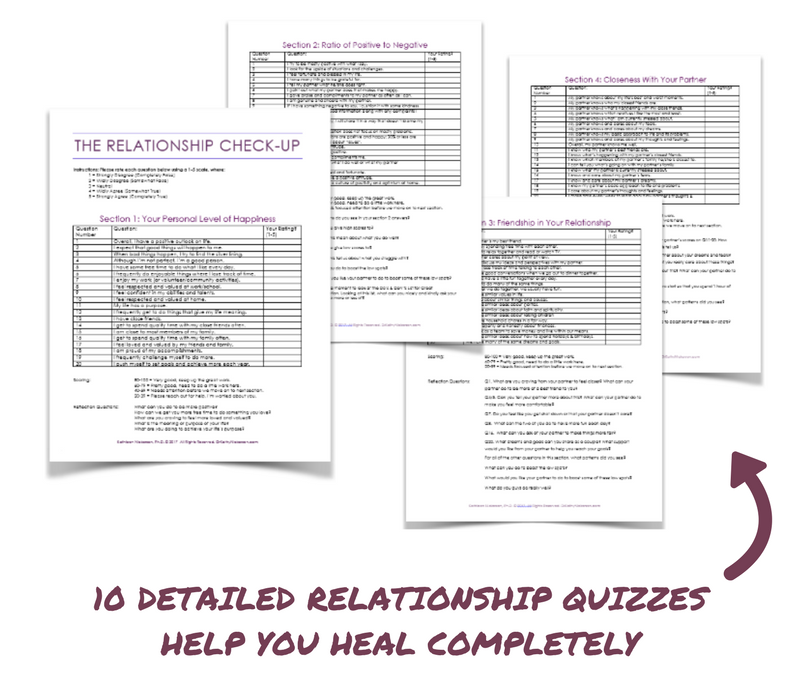 Your Instructor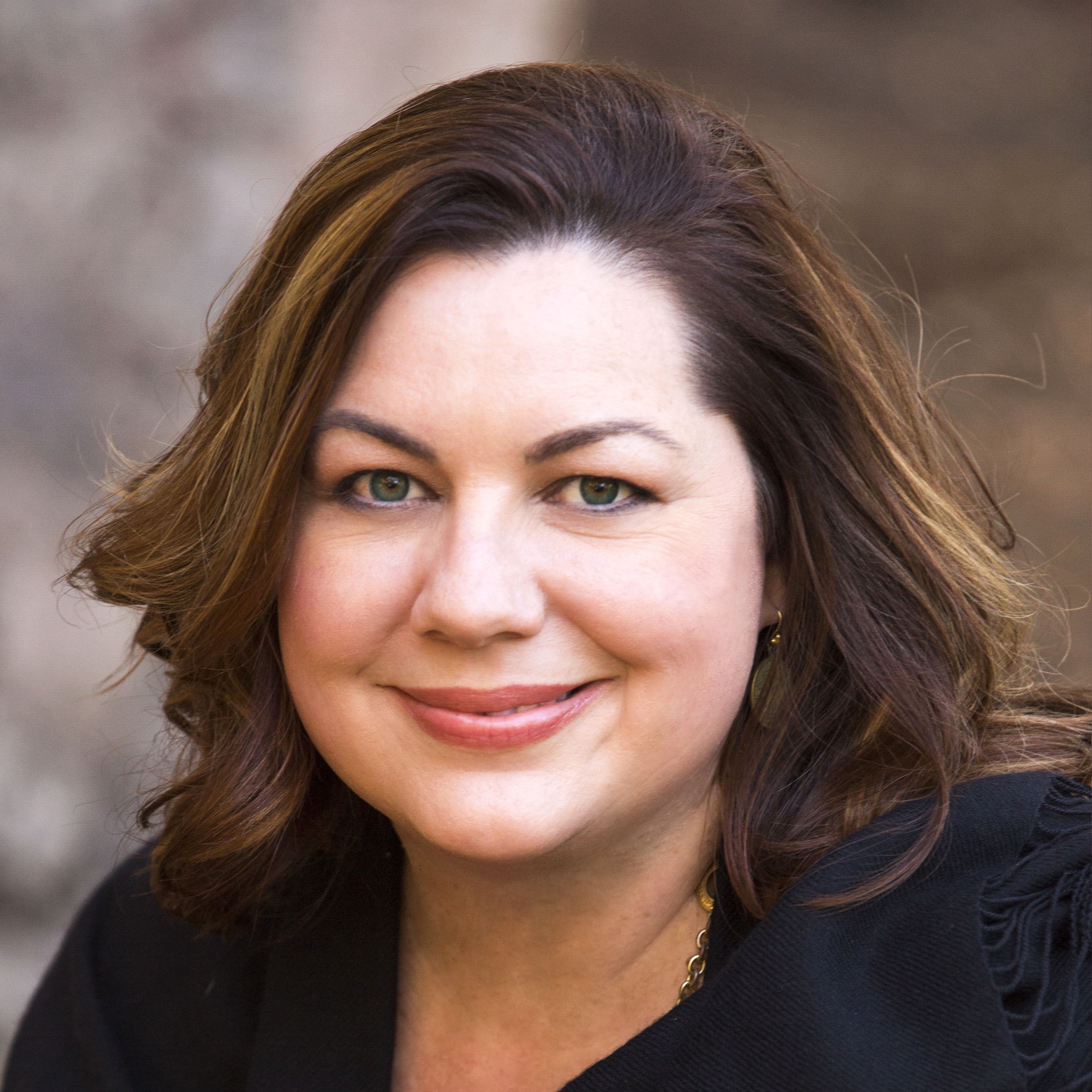 Dr. Kathy Nickerson is a licensed clinical psychologist and nationally recognized relationship expert who has helped thousands of couples. Over the past 20 years, Kathy has presented marriage and relationship advice at more than 70 conferences, while authoring more than 85 professional articles and books. <br><br>
She is a frequent contributor to CNBC, and is regularly featured in Reader's Digest, Good Housekeeping, Bustle, Medium, UpJourney, Fatherly, Zoe Report, Bridal Guide, CNN, Forbes, Glamour, Cosmopolitan, LA Times, Newsweek and many more. <br><br>
Dr. Kathy radiates a sincere, familiar warmth that makes everyone she talks to feel comforted. She captivates readers and listeners with her vibrant and humorous style of communication. Kathy's approachable and transparent style makes her feel like an "open book," and she is beloved by her clients for intuitively understanding their ideas and feelings. <br><br>
Dr. Kathy earned her Ph.D. and M.S. in psychology, following her undergraduate work at UC Irvine in Chemistry. Kathy began her career teaching and counseling at-risk youth with the Orange County Health Care Agency. Kathy then led a distinguished program for the United States Department of Justice, where she and her team trained people how to recognize and respond to domestic violence and child abuse. During these years, Kathy discovered the critical importance of healthy relationships on individuals and families. <br><br>
Dr. Kathy found that strong marriages contributed greatly to the mental and physical health of her clients. From that point on, Kathy dedicated her career exclusively to helping couples strengthen and repair their relationships.<br><br>
Dr. Kathy's mission is "to help as many couples as possible save their relationships, prevent divorce, and keep their families together." <br><br>

Dr. Kathy wants to be a love champion in a world where it sometimes feels like love is lost. Learn more at DrKathyNickerson.com


What makes Healing From Infidelity different from other programs?
I can honestly tell you there is nothing like this program on the market today.

The quality of this program is second to none. So many of the relationship repair programs offered online are taught by well-meaning people who have little or no professional training in therapy.
Also, most programs available online are focused on general relationship problems, not specifically focused on infidelity.
This is the only affair focused program offered online taught by a board certified clinical psychologist, who is also a nationally recognized expert in the fields of marriage therapy and couples counseling.

Our program is based on science, not guesses or hunches. Many of the core concepts taught in this course come from world-renowned research psychologists, Dr. John Gottman & Dr. Martin Seligman.
Healing From Infidelity has been thoroughly tested in my office over the last 20 years and proven to work by thousands of couples. I know it will work for you!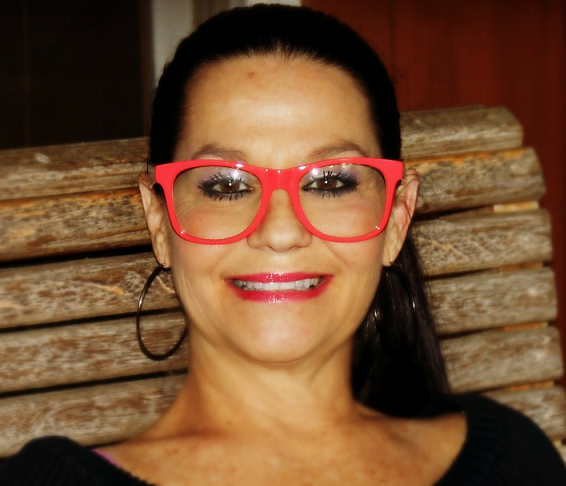 "It's impossible to say how much better my life is because of our time with Dr. Kathy. Without her, we wouldn't have made it and my family would be broken in two. If you need to get over an affair, call Dr. K today."
- Cara S., New York

How Much Does The Healing From Infidelity Program Cost?.
The price of the the program is $195 and you can pay all at once or in 6 easy monthly payments.

So for less than you'd pay for 1 meeting with an experienced couples therapist, you can learn every proven strategy, tip, tool, and technique to truly heal from an affair.
You'd likely spend about $6500 and 20 hours in a therapy office to learn these tools and strategies from a top-notch marriage counselor...
So by investing in this program, you're actually saving thousands of dollars!
And how can we even begin to put a price on your happiness, your relationship, and keeping your family together? We can't.
I can promise you that there's nothing you can buy that will deliver these results for such a modest investment.
But don't delay...this introductory price will only be available for a limited time.
After that, the price goes up and I don't want you to miss out!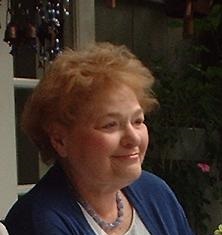 "This really is her passion and it shows. Kathy is a tremendously skilled and caring couples therapist."
- Dr. Gloria J. Sklansky, PhD, Licensed Clinical Psychologist
Try Healing From Infidelity Risk-Free!
You have 7 days to fully explore and test out this program....watch the video lessons, read the handouts, take the quizzes, and go through all of the discussion questions. If you are unsatisfied with this program for any reason, simply notify me anytime within those first 7 days and you'll receive a 100% refund.
My reputation means the world to me and I whole-heartedly believe this system will work for you. If you disagree, no problem, just notify me within 7 calendar days of purchase and I am happy to give you your money back.

After 7 days, all purchases are final.

Frequently Asked Questions
Do I really need your help? Can't I just fix my marriage on my own?
I'm thinking you're here because you know you need some help. And you know what? There's no shame in that! Asking for help means you're a smart cookie who knows they don't know everything. Honestly, it's super hard to be objective about your own relationship and figure out how to fix things. I've spent years and years training, teaching, and trying different marriage counseling techniques. After all of that experimentation, I know what really works. Let me save you the pain of trying to figure out how to heal from an affair. I've put the best of what I've discovered into this class, so you can skip all of that hard work and just get proven, effective advice that actually works.
Will your advice really work for me? I've tried other stuff and it didn't work.
Yes, it really will. The advice in this class has been developed and tested in my office over the last 20 years with real couples, just like you. I'm not some online guru... I am a real, practicing, licensed marriage counselor. I know my tools will work for you because they've helped so many people just like you!
Do I need to do something now? Can't I just wait and see if it gets better on its own?
Yes, you really should do something now. The longer you wait, the more damage gets done and the harder it is to fix things. You've probably heard that marriage counseling has a pretty low success rate. Sadly, it's because people wait until it's way too late to try to make things better. I don't want that to happen to you... it's so much better and so much easier to fix things in the early stages, rather than wait and wait. I say start now... it can only help!
How does this course work?
When you purchase the course, you will receive an email with your unique log in and password to access the private course website. You will have instant access to all of the trainings and tutorials, so you can get started right away. You'll get lifetime access to the material, including all the video lessons, PDFs, articles, resources, the 10 part Relationship Check Up quiz, and so much more!
When does the course start and finish?
The course starts now and never ends! It is a completely self-paced online course - you decide when you start and when you finish.
How long do I have access to the course?
How does lifetime access sound? After enrolling, you have unlimited access to this course for as long as you like - across any and all devices you own.
What if I am unhappy with the course?
We would never want you to be unhappy! If you are unsatisfied with your purchase, contact us in the first 7 days and we will give you a full refund.
Is this course private and confidential?
Yes, absolutely. We will never share your information with anyone in any way. No one will ever know you've taken this course unless you choose to tell them.
Will my insurance cover the cost of this course?
Maybe! If you have a Health Savings Account, you can use that to pay for the course. Double check with your insurance company to be sure.
Does this course work on my tablet, ipad, and phone?
Yes. You can take this course and access all of the materials using any computer, tablet, or smart phone. If you have any problems accessing the materials, just let us know and we'll help you asap.
Do you offer any scholarships for people who need help but can't afford the course?
Thanks so much for asking this... yes! I am happy to offer scholarships to those in need. If you're in a special circumstance, please tell me about what's going on and let me know what you can afford to pay for the course. Please apply for a scholarship here and you'll receive an answer back within 2 business days: https://drkathynickerson.com/pages/hfi-course-scholarships